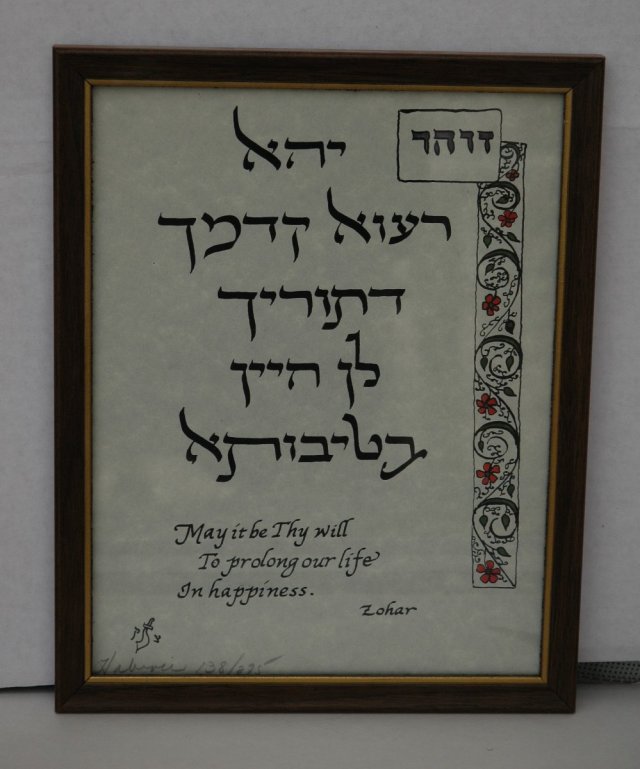 This is an 8-1/2" x 11" SIGNED original print by internationally-known artist Harvey Kaplan ("Habiru").

Habiru specializes in ancient Hebrew and Phoenician biblical aphorisms hand carved on marble; and this particular item is an original Habiru print containing a saying from the Kaballistic book, "The Zohar". The Hebrew characters of the saying spell the Aramaic inscription which translates to: "May it be thy will to prolong our life in happiness". The simple frame shown helps protect the original print during shipping.

People of diverse religions and origins have had the pleasure and good-fortune of enjoying and collecting Habiru's works through art shows and exhibits. We are especially happy to now offer you this same opportunity through the Internet medium!

PRICE: $69.95 (Plus Shipping which depends on Method and Your Location) .

WE ACCEPT PAYPAL, PERSONAL CHECK (10 DAYS TO CLEAR), CASHIER CHECK OR MONEY ORDER


AND WE SHIP ITEM IMMEDIATELY UPON RECEIVING VERIFIED PAYMENT.


CHECK-MAILING INFO AND/OR INQUIRY ANSWERS
WILL BE PROVIDED PURSUANT TO YOUR E-MAIL/FEEDBACK-FORM.